This blog has been produced in partnership with Upparent.
Does walking the toy aisles and browsing those gift catalogs that are crowding your mailbox leave you feeling a little overwhelmed as the calendar creeps closer to the holidays? When you're shopping for the youngest kids on your list, the good news is that babies, toddlers and preschoolers are too little to care much about trends or the newest gadgets. The best holiday gifts and stocking stuffers for kids under five tend to be favorites year after year because of how well they support child development and milestones, so relying on advice from fellow parents about what they loved for their own kids is the way to go! Here are some great gifts to consider.
0-12 Months
Babies change so much during the first 12 months of life. And although the baby registry covers many bases, parents always gain a better understanding of what they really need as their child grows. For this age group, think about what would be the most helpful and useful to mom and dad. Because let's face it, babies like boxes and wrapping paper just as much as the gift itself! 
Try these: teething toys, bibs, stroller toys, diapers, bath toys

One-Year-Olds
As babies transition into toddlerhood and they interact more with the world around them, look for toys that stimulate and grow their developing minds and bodies. You can boost early brain development by offering sensory toys or toys that focus on developing gross motor skills like walking and balance.
Try these: musical instruments, child-size grocery cart, walkers and push toys, play tunnel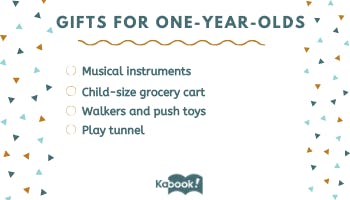 Two-Year-Olds
Once a child is around the age of two, they are into exploring their surroundings even more, experimenting with cause-and-effect, and mimicking mom and dad. Think turning on and off the lights, playing with pots and pans on the kitchen floor and taking the laundry out of the dryer. So you want to look for gifts that encourage this natural curiosity.
Try these: play kitchen and food, ride-on toys, water table, bubble lawn mower, play mop and dustpan set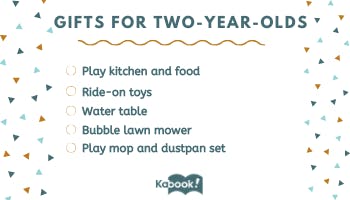 Three-Year-Olds
At age three, kids are starting to express their individual interests more and more, so you can choose gifts that support their personalities and spark their imaginations. They can also play with smaller toys safely, which opens up many possibilities for building toys that they will enjoy for years to come. This is a great year to invest in quality staples that will grow with them through their childhood.
Try these: building toys like blocks and magnet tiles, doctor kit, small basketball hoop, balance bike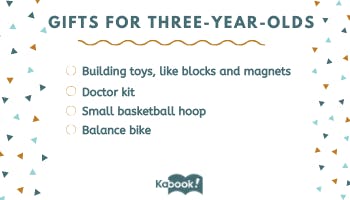 Four-Year-Olds
By age four, kids are capable of expressing and understanding more complex emotions and are becoming experts at pretend play. So look for gifts that help with role playing, sharing and critical thinking. And since kids are getting better at following rules at this age, it's a great time to start building a family board game collection.
Try these: dress up clothes, puzzles and games for preschoolers, dolls, toy cash register, puppet theater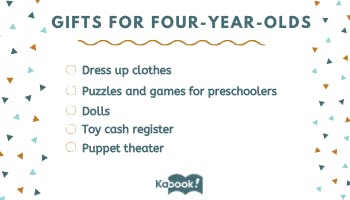 We hope this list sparks some easy gift purchasing this holiday season. Whatever you do, remember that gift giving is supposed to be fun! So don't let the stress of buying the perfect gifts take away from your enjoyment of the season. And if the kids on your list already have plenty of toys, think about giving wonderful (and even personalized!) books to expand the family library, or meaningful experience gifts for kids like a trip to the zoo or a children's theatre performance. 
Happy Holidays...and happy shopping!